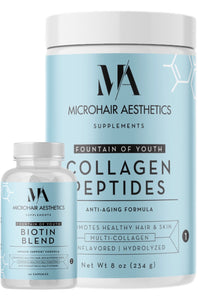 UNLEASH THE TIMELESS BEAUTY WITHIN!
Embrace the age-defying benefits of our Fountain of Youth Supplement System. Designed to combat the signs of aging from the inside out, this powerful duo works synergistically to rejuvenate your appearance and boost your well-being. 
What's inside
Fountain of Youth Collagen Peptides: This potent supplement helps smooth wrinkles, energizes your body, supports bone and joint health, and may even promote weight loss. Our Collagen Peptides are formulated to provide a youthful glow and vitality that radiates from within.
Fountain of Youth Biotin Blend: A multivitamin powerhouse, this full complex, Non-GMO, gluten-free blend includes Vitamin A, C, D3, E, B6, B12, biotin, pantothenic acid, iodine, and zinc. Infused with Vitamin C, this formula serves as a robust antioxidant, aiding in the appearance of youthful skin and healthy collagen production. The inclusion of Zinc assists in supporting healthy proteins in the body, while Vitamin B12 boosts your energy levels to keep you feeling vibrant and dynamic.
Who's it for
If you're looking to revitalize your appearance and take on the aging process with confidence, this supplement system is for you.
 
How to Use:
Follow the instructions on each product's packaging for proper dosage and usage recommendations.
Volume
Fountain of Youth Collagen Peptides 8oz., Biotin Supplement 30 servings.

Please Note: Individual results may vary. Consult with your healthcare provider before starting any supplement regimen, especially if you have any underlying health conditions or are taking medications.
With the Fountain of Youth Supplement System, elegance meets efficacy, offering you a comprehensive approach to beauty and wellness that begins from within. Order now to start your journey towards a rejuvenated you.