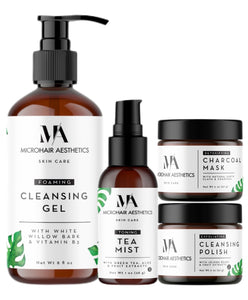 YOUR ULTIMATE WEAPON AGAINST ACNE!

What's Inside

Foaming Cleansing Gel: Unleash the power of our soothing botanical-infused formula on your inflamed skin. Gentle yet super effective, it eliminates impurities and dead skin cells, leaving your skin refreshed.
Exfoliating Cleansing Polish: Experience gentle, soothing exfoliation with our unique blend of sodium bicarbonate, nourishing vitamins, natural oil esters and fruit extracts. This formula helps fight breakouts, leaving your skin smooth and ready for the next step.
Toning Tea Mist: Boost your skin's natural balance with our complex of essential amino acids and skin-friendly ingredients like Niacinamide and Mandelic Acid. This mist hydrates, tones, and helps to brighten your skin appearance.
Detoxifying Charcoal Mask: Indulge in the purifying power of our charcoal mask. It captures deep-set impurities, reduces visible pores, and gently cleanses stressed and inflamed skin.
Who it's for
Ideal for individuals struggling with acne and looking to clear, soothe, and rejuvenate their skin. 
How to Use:

Start with the Foaming Cleansing Gel, followed by the Exfoliating Cleansing Polish.
Spritz the Toning Tea Mist onto cleansed skin and finish off with the Detoxifying Charcoal Mask.
Use 2-3 times a week for optimal results.
Volume
Detoxifying Charcoal Mask & Exfoliating Cleansing Polish 2oz. each, Toning Tea Mist 1oz., Foaming Cleaning Gel 8oz.
Note: Individual results may vary. Packaging may vary slightly from the image due to label redesigning and restocking inventory.