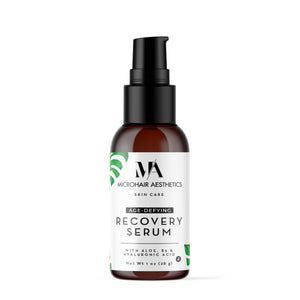 YOUR RADIANCE-REVEALING ALLY WITH VITAMIN A, B5 & CHAMOMILE

Introducing your skin's new best friend in the battle against aging: our Age-Defying Recovery Serum. Enriched with potent Retinyl Palmitate (Vitamin A), Calcium Pantothenate (Vitamin B5), Sodium Hyaluronate (Hyaluronic Acid), and natural botanical extracts, this serum not only combats fine lines and wrinkles but also helps fade age spots.

Beyond reducing the signs of aging, the serum boasts Chamomilla Recutita (Matricaria) Flower Extract that works synergistically to calm and brighten inflamed skin, while Sodium Hyaluronate ensures optimum hydration. Vitamin B5 further enhances moisture retention, improving skin resilience. Regular use will reveal a revitalized complexion, highlighting firmness and radiance that defies time.

Benefits
Dramatically enhances skin elasticity and firmness.
Optimizes complexion, promoting even skin tone.
Encourages healthy cell turnover and soothes inflammation.
How to Use
Dispense 2-3 pumps onto clean fingertips.
Gently apply to the face and neck, working upwards and outwards.
Avoid eye and lip areas.
Recommended for evening use, 2-3 times per week.
Skin Type
Ideal for all mature skin types; perfect for oily skin prone to breakouts. While suitable for most skin types, those with sensitive skin should perform a patch test or consult a dermatologist before use due to the presence of Vitamin A.
This product is fragrance-free.
 
Volume
1 oz/ 30mL
These products are carefully crafted with a blend of clinical-grade, natural ingredients, ensuring the highest standards of quality and safety. None of our formulations include harmful chemicals or toxins. Moreover, we staunchly uphold ethical production methods and ensure all our products are cruelty-free. So, not only does your skin get the love it needs, but we also give due respect to our furry friends.
Please note that the packaging may vary slightly from the images shown, as we have recently updated our labels and are in the process of restocking inventory.