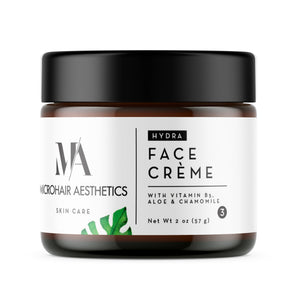 YOUR DAILY DOSE OF HYDRATION AND SKIN SOOTHING BLISS 
Infuse your skin with the refreshing burst of hydration it deserves using our Hydra Face Crème. This moisture-rich elixir combines potent antioxidants and replenishing ingredients to fend off free radicals while restoring your skin's natural luminosity.
 
At the heart of this formula is Hyaluronic Acid, a powerful hydrating agent that locks in moisture, giving your skin a plump, youthful appearance. Complementing this is a nutrient-rich trio of Vitamin E, Aloe, and B5, meticulously chosen for their abilities to nourish, soothe, and mitigate inflammation resulting from acne breakouts.
 
Benefits
Soothes and calms skin irritated by breakouts.
Locks in moisture, nourishing the skin deeply.
Minimizes the appearance of fine lines.
Revives tired, dull skin, promoting a healthy glow.
Lightweight and non-greasy, perfect for daily use.
How to Use

Apply to a clean face using your fingers until fully absorbed
Use daily before applying sunscreen or makeup
Use nightly to reduce inflammation and soothe acne-prone skin
Skin Type
Suitable for all skin types
Volume
 2 oz/ 60g 
In adherence with our commitment to clean and ethical skincare, all our products are made from natural, clinical-grade ingredients. We ensure all our offerings are free from harmful chemicals and are produced with the utmost respect for the environment and animals. We take pride in our cruelty-free promise, enabling you to indulge in skincare that's kind to your skin and the world around you.